5 NIGHT BUSH & LAKES SELF DRIVE
KwaZulu-Natal
Package #62
Rates available on request
3 NIGHTS KOSI LODGE
iSimangaliso Wetland Park
2 NIGHTS RHINO RIDGE SAFARI LODGE
Hluhluwe iMfolozi Park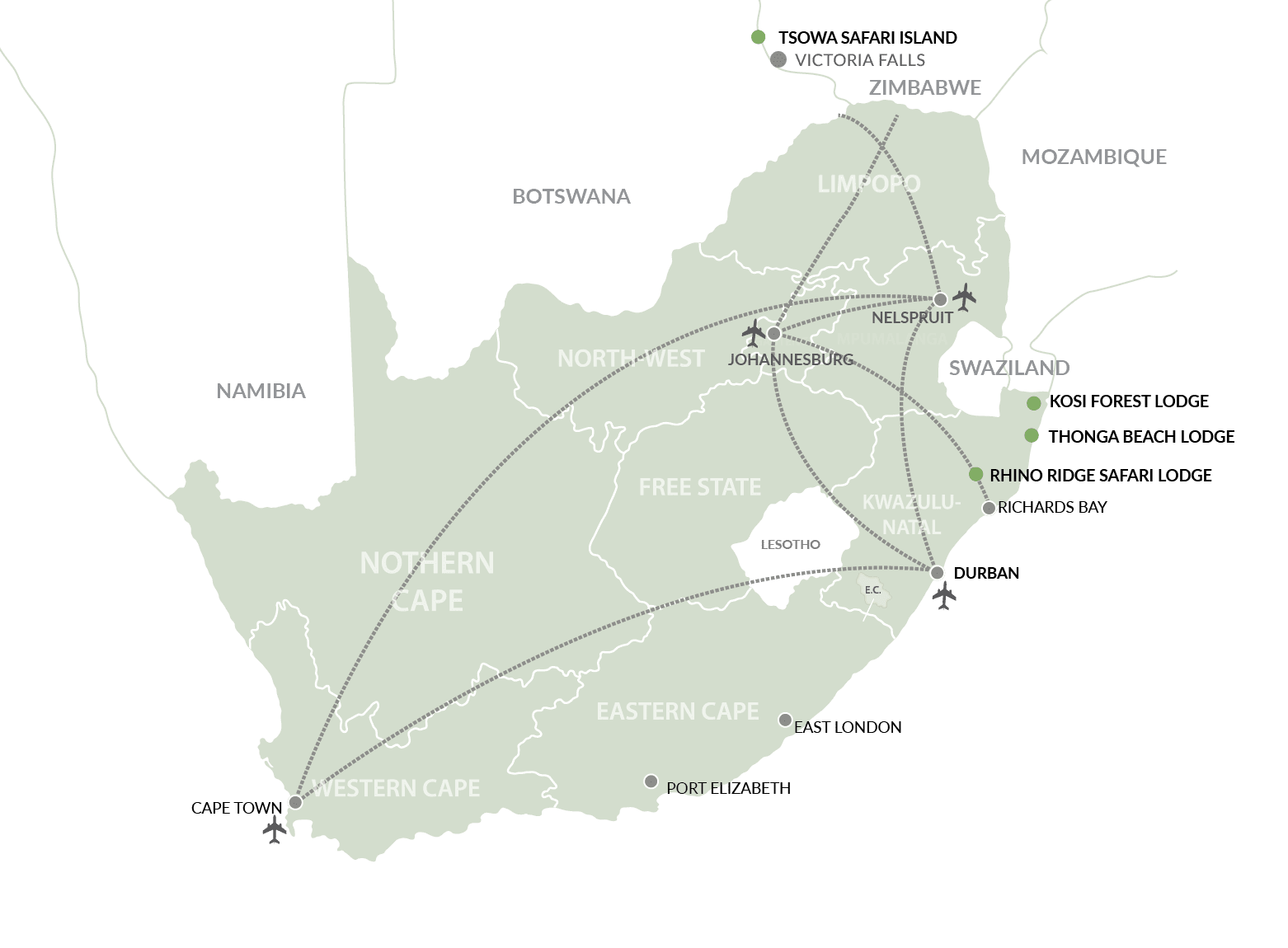 Kosi Forest Lodge
3 nights accommodation, breakfast, lunch and dinner, teas and coffees, canoeing on Kosi lake system, walk in raffia forest, transfers to and from pick up point.
Rhino Ridge Safari Lodge
2 nights accommodation in a Safari Room upgradeable to a Bush Villa or Honeymoon Villa, all meals, teas and coffees, morning and afternoon game drives.
Park fees, drinks, laundry, gratuities and items of a personal nature.
Kosi Forest Lodge
Motorised boat trip on Kosi lake system, 4×4 day trip to Kosi Bay Mouth and 4×4 turtle tours.
Rhino Ridge Safari Lodge
Spa Treatments, day trips out of the park, guided safari walks.
Extra days can be added at any of the lodges and other Isibindi Africa Lodges may be added to this itinerary. Contact [email protected] for your tailor-made package.
Night 1 Itinerary
KOSI FOREST LODGE
iSimangaliso Wetland Park, KwaZulu-Natal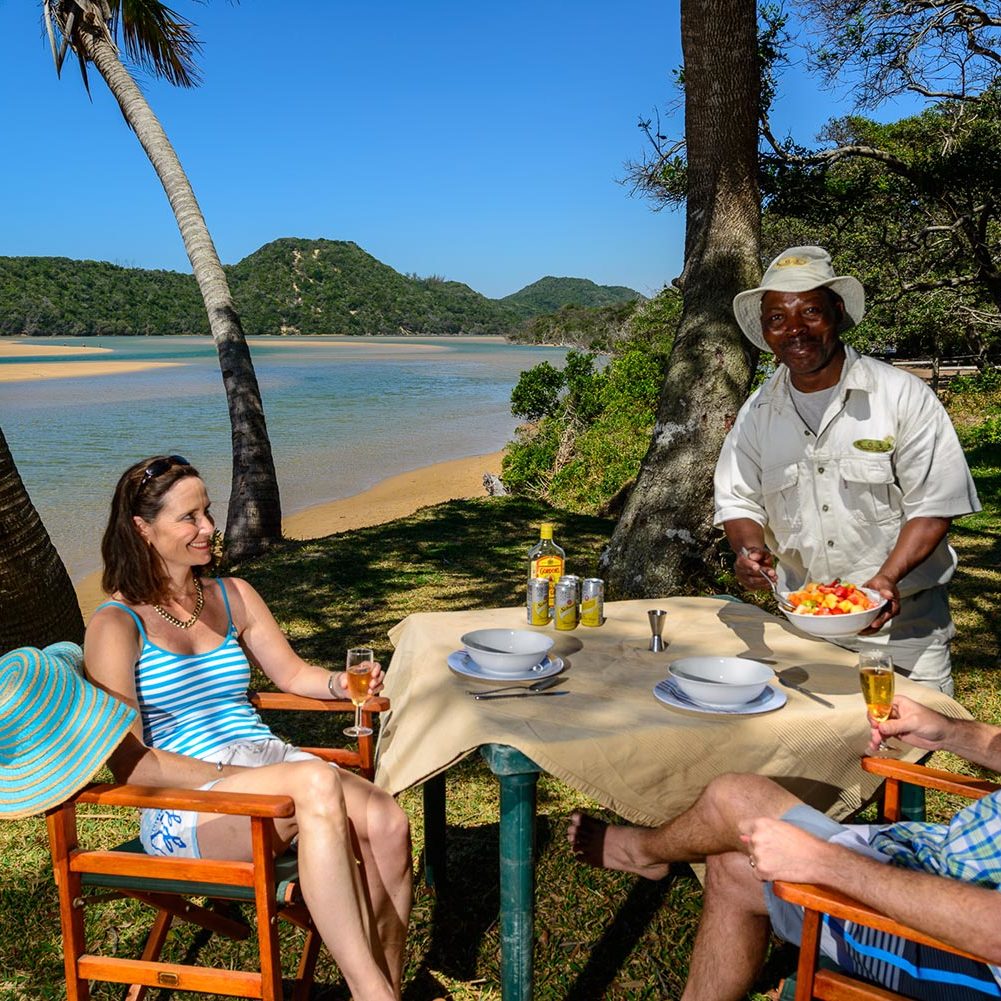 Kosi Forest Lodge is situated in the Kosi Bay Nature Reserve which is part of the iSimangaliso Wetland Park proclaimed a Unesco World Heritage Site.  This 20-bed wilderness lodge offers the unique opportunity of exploring a pristine wetland environment by vehicle, guided canoes and boats.
Kosi Forest are accommodated in thatched forest rooms, on raised wooden decks, hidden in the sand forest. The unique open-air, reed enclosed bathrooms with the bath and shower sunk into white forest sand, has been noted by many guests as one of the highlights of their stay. Each room has an indoor shower as well to cater for the less adventurous. All beds have mosquito nets.
On arrival you will be shown your forest room and given time to unpack and relax before embarking on your first activity.  You will return to the lodge and freshen up before coming through to the dining deck to enjoy dinner.
Night's 2 & 3 Itinerary
KOSI FOREST LODGE
iSimangaliso Wetland Park, KwaZulu-Natal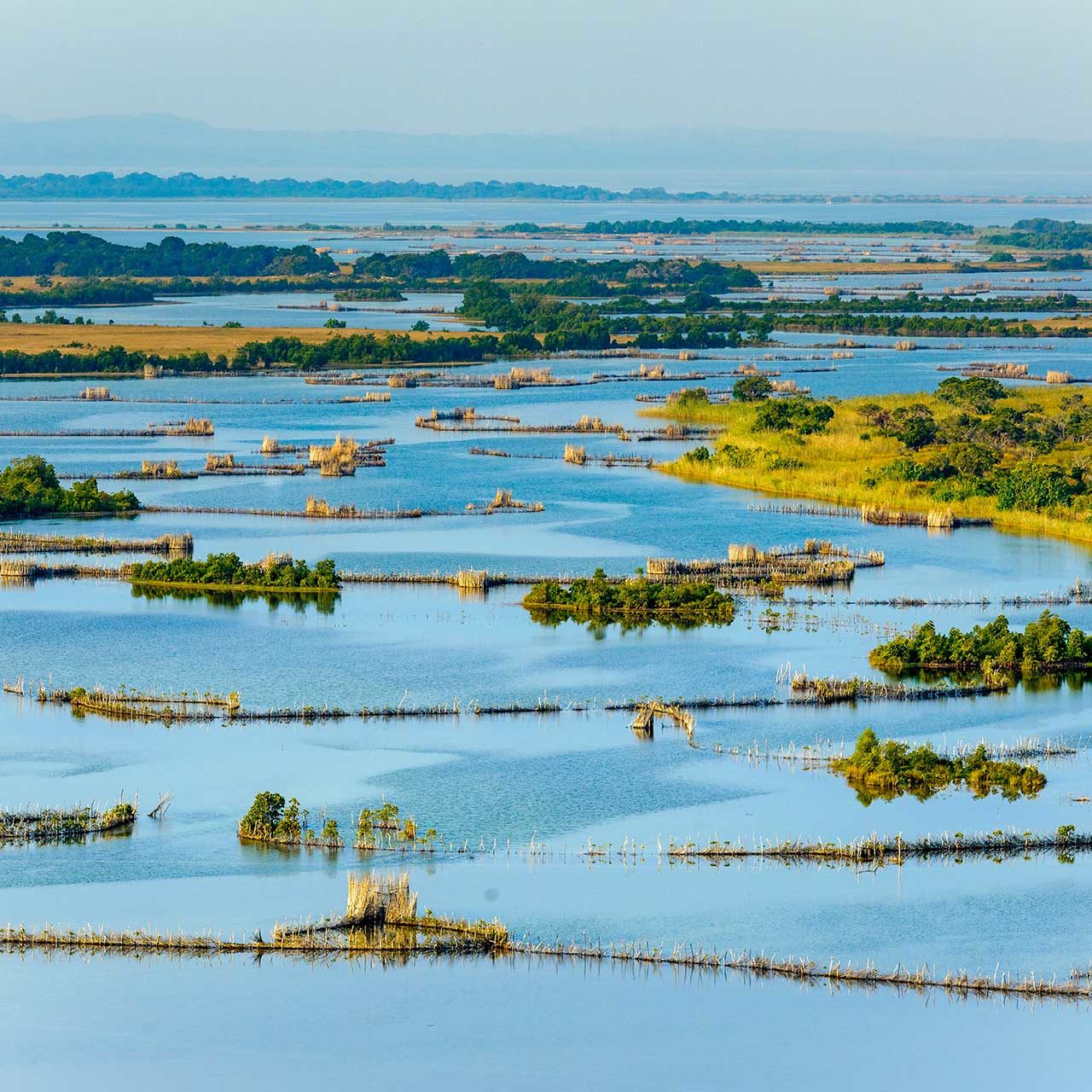 The dawn chorus of hundreds of birds who live in the sand forest will waken you. You will join the Kosi team at the lodge for a hearty breakfast, before leaving on your activity.
The highlight for many at Kosi Forest Lodge is the canoe trip on the Kosi Lakes. The best time for this activity is in the early morning and lasts for approximately 2 hours.  Guides escort you by canoe along the Sihadla channel where the bird life is very rewarding and the scenery peaceful and breathtaking.
You will return for a delicious lunch and a siesta before embarking on your afternoon activity.
In the afternoon you can enjoy a walk through magnificent raffia palms, the tallest in the world!  Home to the palm-nut vulture and Pels fishing owl, the area can be explored by birders at their leisure.
When you return from your afternoon activity you will have time to freshen up before coming through to enjoy a delicious meal on either the main deck or in the boma.
The pathways and dining decks are lit by lanterns that create a romantic atmosphere, allowing you to relax and soak up the sounds of nature.
The Kosi Lake system is a series of interconnected lakes which stretch over some 18km. The best way to see the system is by boat. The full day excursion leaves shortly after breakfast and travels through the lake system and estuarine waterways. The guides stop along the way and explain the traditional fishing traps and the traditions of the Tsonga community who live in balance with the lake system.
A picnic lunch is served on the banks of the scenic lakeside.  After your meal you will continue on to Bhanga Nek beach where you can enjoy one last swim before heading back to the lodge.
Night 4 Itinerary
RHINO RIDGE SAFARI LODGE
Hluhluwe iMfolozi Park, KwaZulu-Natal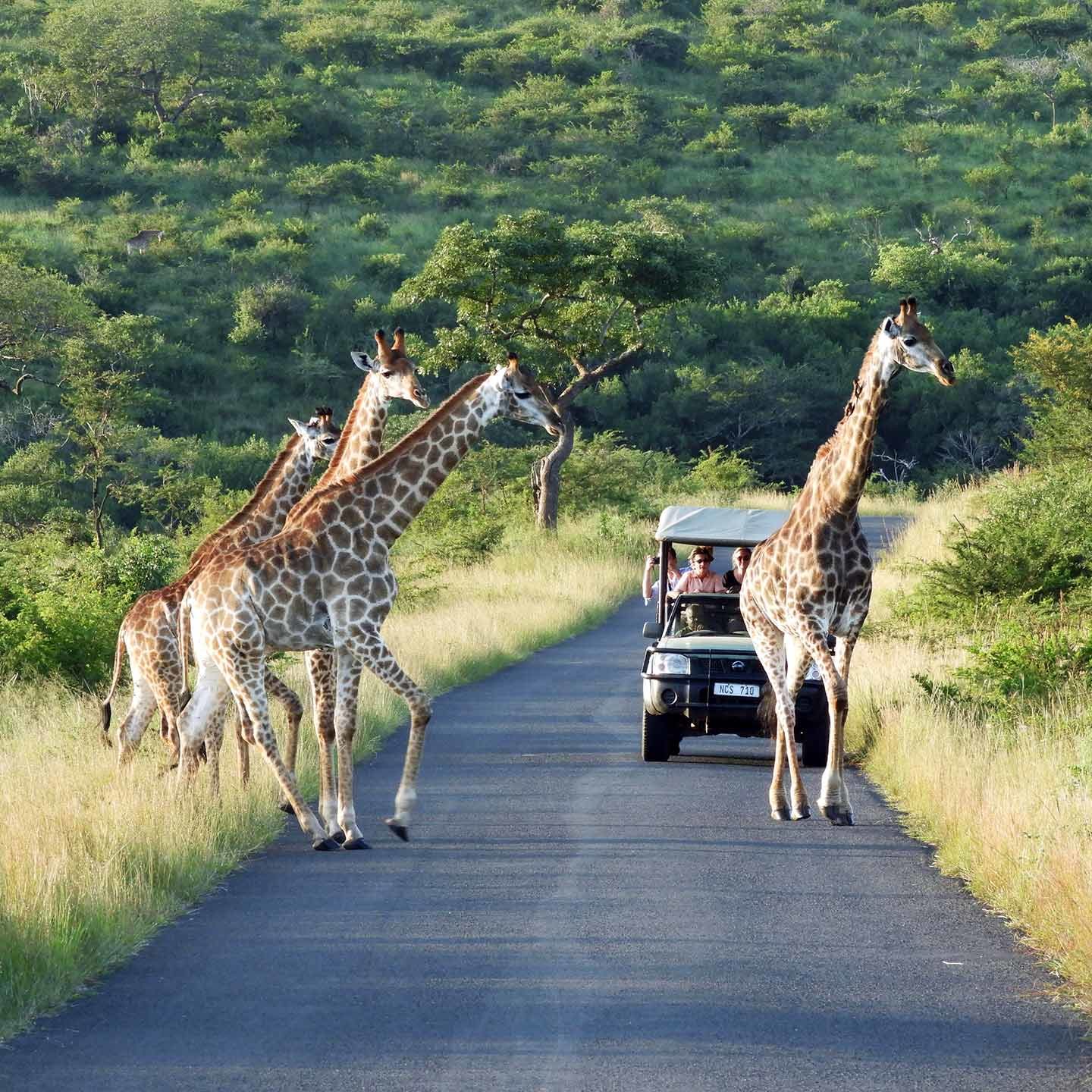 After an early morning activity, it will be time to bid farewell to Kosi Forest Lodge and wind your way out back to the main road travelling south via the vibrant African town of Manguzi.
Those who travelled in non 4×4 vehicles will collect their vehicles from the secure parking in Manguzi and make their way to the main highway, travelling south to Hluhluwe iMfolozi.
Rhino Ridge Safari Lodge is situated within a 3.5hr drive from Kosi Forest Lodge. You will make your way to Hluhluwe iMfolozi and drive in via Memorial Gate, making time in your journey to stop for game before arriving at the lodge.
Rhino Ridge Safari Lodge is situated on the western boundary in the first private concession of Africa's oldest proclaimed Game Reserve Hluhluwe iMfolozi Park, Northern KwaZulu-Natal. Rhino Ridge Safari Lodge is the only private lodge within the park. With its four star accommodation, guests are offered spectacular scenery and excellent safari opportunities within the heart of Big 5 territory.
On arrival at Rhino Ridge Safari Lodge you will be offered a refreshing drink and welcomed by our friendly team who will give you a short orientation of the lodge and its facilities before showing you to your accommodation. After a quick refresh we will be waiting to serve you high tea on the verandah at the main lodge which offers spectacular views over the entire reserve.
Here you will meet your guide who will prepare you for your first safari experience, offering some useful pointers about the 'do's and don'ts' of the bush. By now you will be eager to board your safari vehicle to explore the magnificent hills and valleys of the Hluhluwe iMfolozi Park.
At sunset your guide will take you to a special spot to enjoy drinks and snacks where after you will travel into the night looking for nocturnal creatures like leopards, owls and jackals.  When you get back to the lodge you will be given time to freshen up for dinner and then enjoy superb cuisine either on the dining deck or in the restaurant. Sit around the fire late into the night discussing the day's sightings and legendary tales of Africa against a backdrop of a million stars.
Night 5 Itinerary
RHINO RIDGE SAFARI LODGE
Hluhluwe iMfolozi Park, KwaZulu-Natal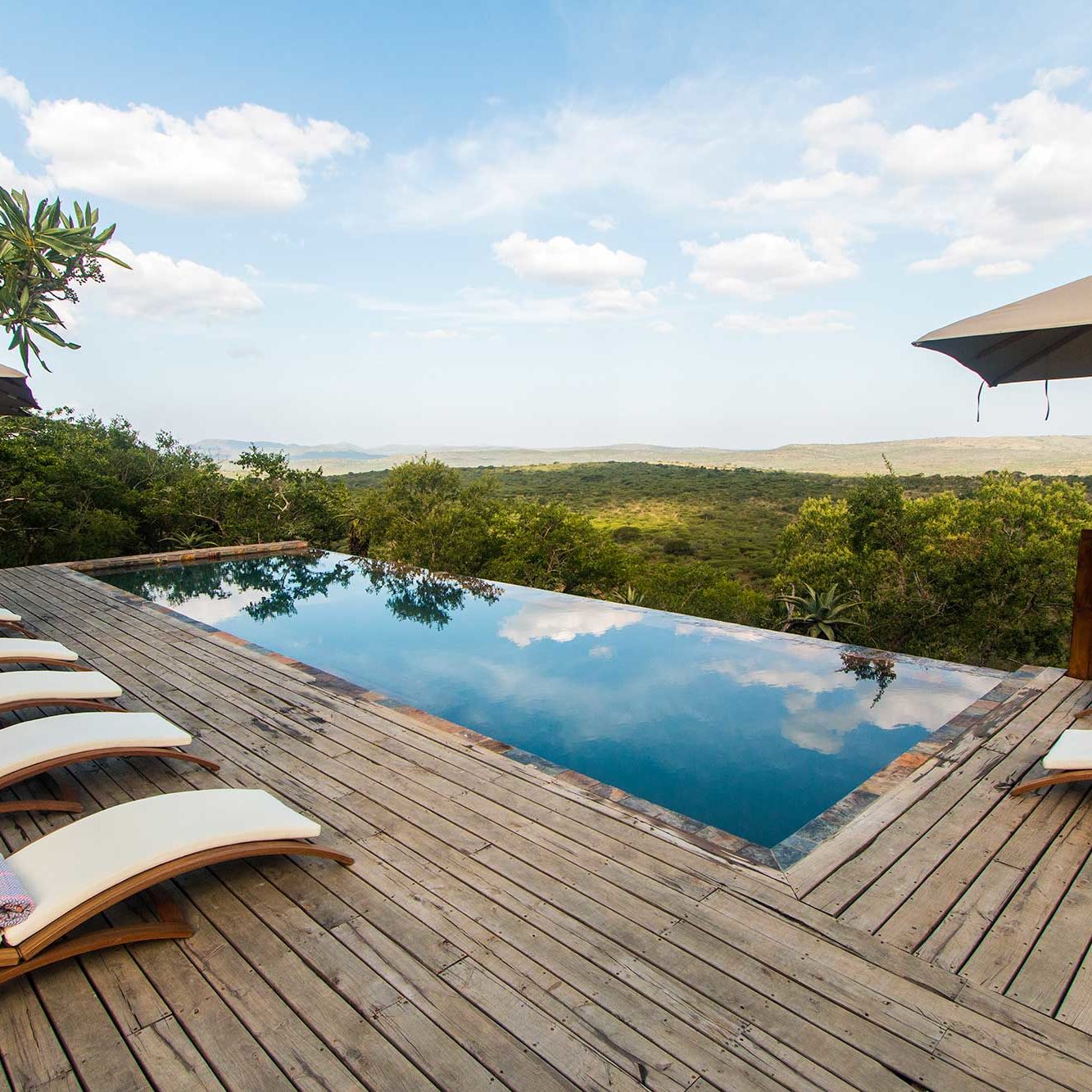 After an early morning wake-up, fresh coffee, tea and rusks (a South African tradition!), everybody departs with the guides for an early morning game drive. Be sure to have a jacket and scarf as it can get really chilly on the open 4×4 vehicle.  Sunscreen, hats and sunglasses will also be needed for later in the day. Nothing is predictable in the bush; therefore each safari offers a potentially new and unique experience.
Our guides will share their wealth of bush experience which involves the identifications of animals, trees, grasses, insects and birds. The medicinal uses of plants and local folk lore is also discussed as well as looking for the ever fascinating Big 5!
When you return to the lodge you will sit down to enjoy a hearty brunch. Now it is time for you to relax and imbibe the natural beauty of Rhino Ridge Safari Lodge. You may wish to spend your day being pampered in our spa, do a few laps at the pool or simply relax in the privacy of your room enjoying the endless views from your private balcony.
Make sure you are back in time for high tea and the evening game drive. Hopefully this time you will spot all those other animals still on your bucket list. On returning to the lodge you will have time to freshen up before coming through for a delicious dinner
After a hearty breakfast it will be time to check out before continuing on with your journey.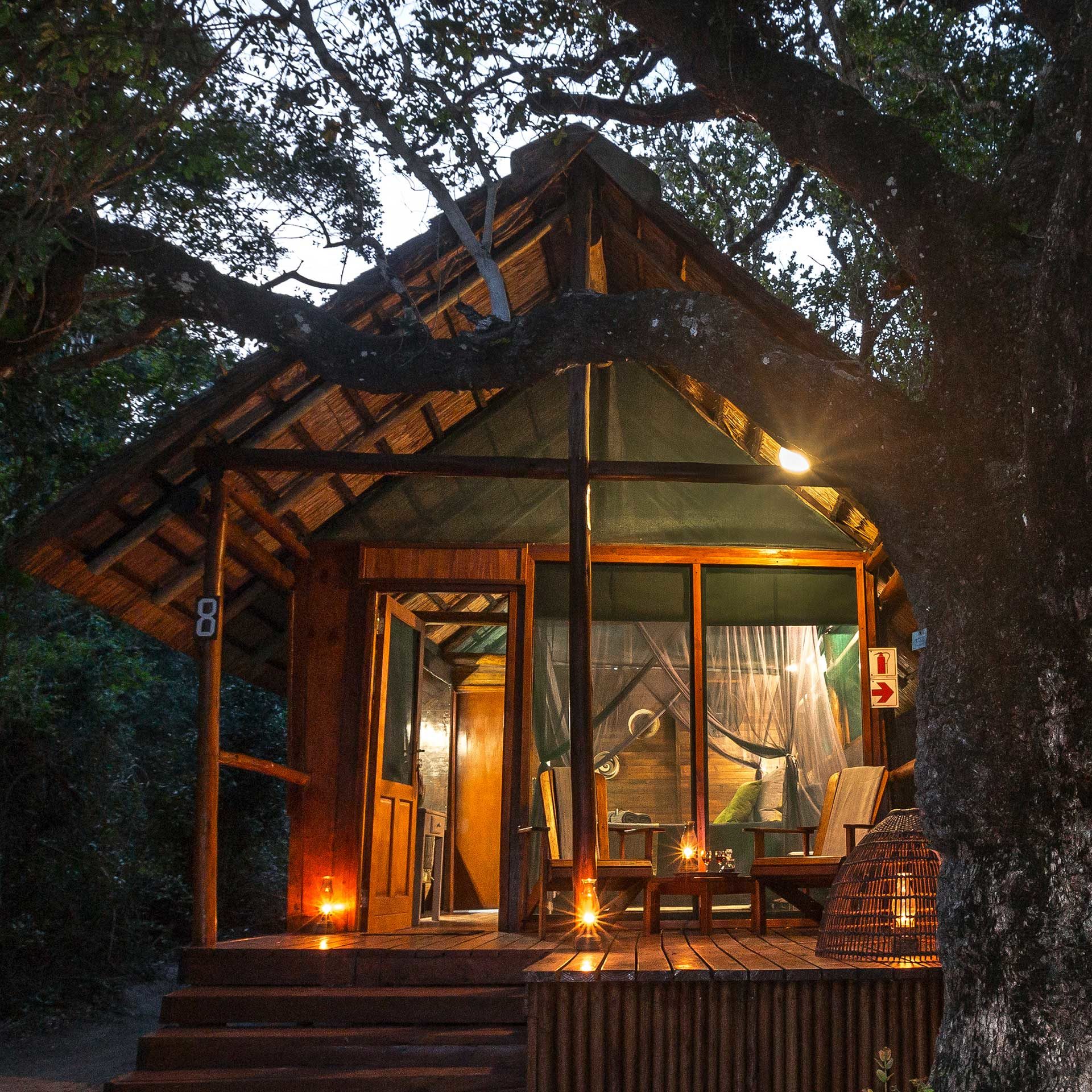 Kosi Forest Lodge is a haven of crisp, cool comfort in the sand forests and you will find that treading gently is a natural way of life in this soft sand forest. Glamping at its best, here you live amongst the trees, surrounded by birdsong. The perfect combination of thatch, canvas and wood, what sets these forest rooms apart is their unique bathrooms with an outdoor shower and deep, wide bath under a leafy canopy. Oil lamps are lit along the forest paths and in your outdoor bathroom, creating a warm glow and connection with the ancient past of this unspoilt land.
The gentle local staff are anxious to please and love to show off the beauty of this pristine part of the earth, be it gliding through a still river in a canoe, birdwatching, or taking you snorkeling at the Kosi Bay river mouth. They are only too delighted to pack you a generous picnic lunch or organise a private, candle-lit dinner under the stars at the open firepit. Enjoy your favourite sundowner drink at the pool which overlooks Lake Shengeza, where hippos grunt and fish eagles call.
The lodge is situated in a protected part of the iSimangaliso Wetland Park in Northern KwaZulu-Natal, famed for its diverse birdlife which includes forest, grassland and coastal birds. Palm-nut vulture and Pel's fishing owl are local delights. As you walk lightly on this beautiful part of our earth, you too will become the gentlest version of yourself. Please visit the website for more information: www.kosiforestlodge.co.za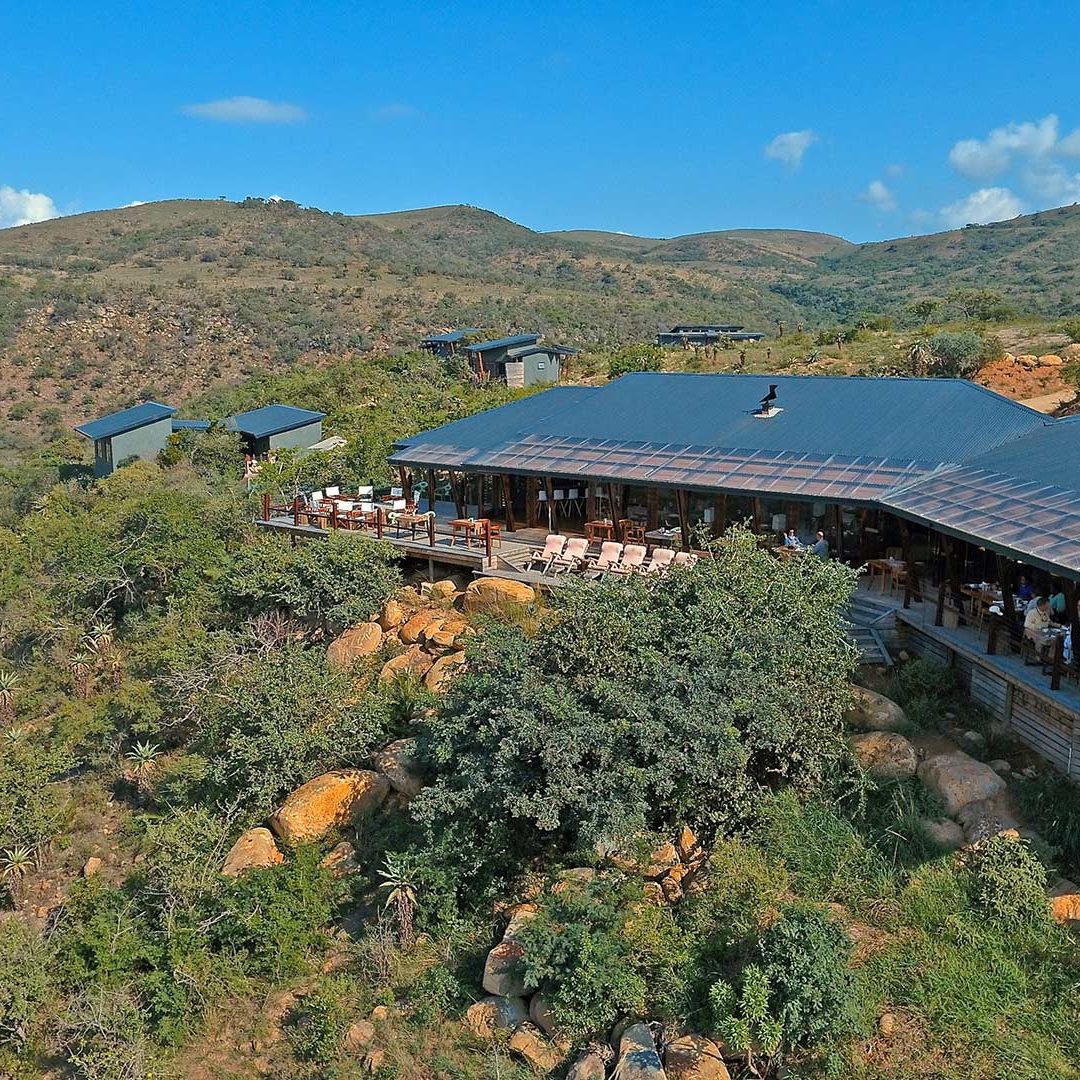 Rhino Ridge Safari Lodge is the only private lodge in the Hluhluwe iMfolozi Park, providing guests with exclusive luxury and outstanding service within South Africa's oldest national park. Each luxury room or villa is stylishly decorated and includes a spacious bedroom with impressive views from the bathroom, outdoor shower and patio deck. From each cleverly-designed space, you can watch the wildlife below, uninterrupted in their natural habitat as they have been for decades in this protected area.
Along with limited game viewing at the lodge and on morning and evening game drives, Rhino Ridge Safari Lodge offers a host of authentic Africa experiences – from wild bush walks to traditional Zulu homestays and rejuvenating spa treatments. In keeping with the Isibindi ethos, Rhino Ridge Safari Lodge is a joint venture between the National Empowerment Fund and the local Mphembeni community who own the land on which the lodge is built. People from the community have been trained to work in various departments and now constitute 97% of the lodge staff. Please visit the website for more information: www.rhinoridge.co.za.