Stillness and connection, our honeymoon suites are carefully considered places to connect with your environment in a meaningful way. Rhino Ridge Safari Lodge is an exclusive honeymoon destination offering you, the bridal couple, the ultimate in secluded, private villa luxury. Slow down, pause at your private plunge pool to breathe in the moment and reconnect with nature, with ourselves and with one another.
At Rhino Ridge Safari Lodge, we understand romance – it is one of our very favourite things and you will enjoy being treated like royalty when you choose to start your life together with us. We love creating the perfect romantic scenes in nature or in the privacy of your luxury honeymoon suite. Picture yourselves soaking up the scenery in a glamorous bath next to a fireplace with a view looking down a valley in the Hluhluwe iMfolozi Game Reserve. With fresh, crisp linen on king-size beds, surrounded by dreamy mosquito netting, wide baths, open fireplaces, decks and infinity-edge swimming pools, our honeymoon suite is your haven. It's our job to surprise and delight you during this special time, and we can't wait to spoil you!
Enjoy your private deck while soaking up the sun, or under the moonlight, entertained by the sounds and sights of nature. A bottle of sparkling wine on ice will await your arrival in the evening and the romantic turndown will set the mood for your ideal honeymoon. We'll ensure you enjoy at least one private dining experience either on the upper deck with prime viewing of the animals at the waterhole or elsewhere in the lodge. A complimentary 30 minute hand and foot massage is our little way of helping you to completely relax.
You can also choose one of our 'Safari to Sea' honeymoon packages, combining your blissful bush time with some barefoot luxury at our premiere beach honeymoon destination - Thonga Beach Lodge!
Bushveld romance
Private Luxury Honeymoon Villa
Complimentary bottle of sparkling wine
Romantic room turndown
What some of our guests had to say:
"The perfect honeymoon"
After an exhausting rollercoaster of a year re-planning our wedding twice we eventually made it to our perfect honeymoon. Rhino Ridge and all the staff were absolutely fantastic and we could not stop raving about it to friends and family. The service 10/10. The accommodation (Villa 6) 10/10. The food 10/10. The feeling of relaxation and pure luxury was priceless. Thank you to everyone at the lodge who made it a magical experience.
Ashveers
(South Africa) Stayed May 2021
"the best bush experience we have ever had"
Truly one of the best bush experiences we have ever had (and we have had many). Would not change a thing. Superb staff, incredible lodge and truly a memorable amazing experience in every respect. 10 / 10
Brett Yeatman
Stayed November 2021
"A special thank you"
A huge thank you to the two of you and the staff at Rhino Ridge Safari Lodge.
Our stay was nothing short of perfect.
Both myself and my now fiance thoroughly enjoyed every minute of our stay, from the food to the game drives to the hospitality of the staff.
The proposal night was perfect. Everything went according to plan. Spha went out of his way to ensure all my demands were met. Throughout our stay, Spha and his team continually checked up on us making us feel at home at all times.
Dr K
Durban, South Africa
Stayed November 2020
"Gem on planet earth"
I've visited many game lodges in South Africa, without a doubt you stand out. your hospitality is on another level. the game drives with well equipped and knowledgeable ranger (Simo Buthelezi you taught me so much ). This is now my new home for every bush visit. well done on keeping your doors opened and having the lodge fully functional during these trying times. well done to this gem on planet earth ….wow
DSN
October 2021
"SA-Venues verified review"
Upon arrival, the atmosphere was relaxing and the scenery was breathtaking! The staff is friendly and will do anything to make the experience personal and amazing for you. Sifiso is an excellent game ranger and we had a few good laughs with him. Spha is an amazing host and makes sure you are comfortable. The food is Masterchef style and yummy! It is an experience that will never be forgotten!
Jacobus
Stayed November 2020
packages
explore our honeymoon packages
From bushveld, to ocean, to lakes -we have it all!
Explore the variety of romantic honeymoon destinations and packages we have to offer.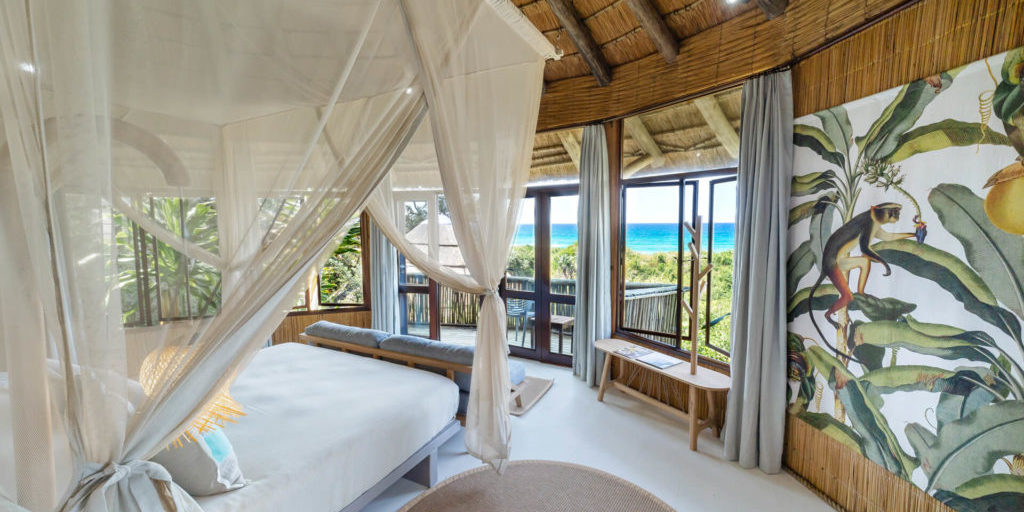 BUSH, LAKES & BEACH HONEYMOON
10 NIGHTS
KwaZulu-Natal, South Africa
|
Package #56
BUSH, LAKES & BEACH HONEYMOON
The perfect honeymoon getaway! Enjoy 3 nights on safari at Rhino Ridge Safari Lodge, followed by 2 romantic nights under a forest canopy at Kosi Forest Lodge and 5 nights at Thonga Beach Lodge for some barefoot luxury on the beach.