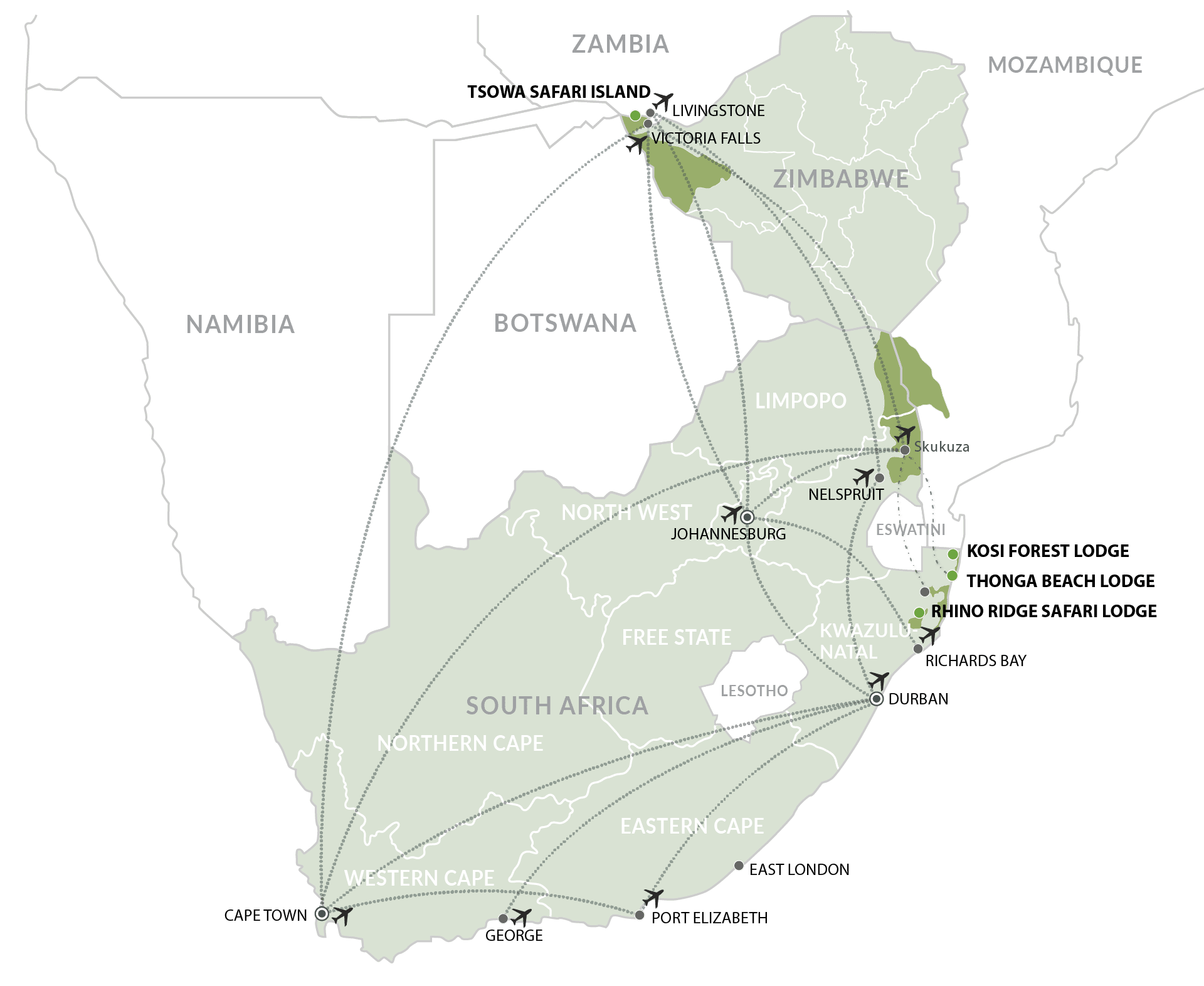 Experience a luxury safari in the Hluhluwe iMfolozi Park, situated in the province of Kwa-Zulu Natal, South Africa. The Hluhluwe iMfolozi Park has an interesting history claiming to be the oldest proclaimed game reserve in Africa and the former hunting grounds of the Zulu Royal family.  The park is made up of two game reserves previously known as the Hluhluwe Game Reserve and uMfolozi Game Reserve.  Rhino Ridge Safari Lodge is the only private lodge in the park offering a chic alternative to the traditional park accommodation.
The park has three entrances, making it easily accessible from Swaziland in the north, Richards Bay Airport 1.5 hours east and an easy 3.5 hour drive north from King Shaka International Airport situated near Durban.
ACCOMMODATION
The luxury safari lodge offers four room types, all positioned to take advantage of the spectacular views over the bushveld below. The modern, tastefully-decorated rooms and villas offer guests the utmost privacy and comfort.
EXPERIENCES
Along with exciting game drives, Rhino Ridge Safari Lodge offers a host of other activities so that can guests can enjoy an authentic African experience - from wild bush walks to traditional Zulu homestays and rejuvenating spa treatments overlooking the watering hole.
HOME OF THE RHINO
In the early 1900's white rhinos numbers had dwindled to as low as 50 - 100 left in the world, and all of them were in the Hluhluwe iMfolozi Game Reserve. Today, South Africa's first game reserve is still home to the densest population of white rhino on the planet.
Take a walk on the wild side with a guided trail through the untamed African bush.
Exciting encounters with animals big and small in open safari vehicles with an experienced guide.

"We could have stayed there forever"
My wife and I celebrated our 15 year anniversary at this wonderful lodge.
We were warmly welcomed by beaming smiles at checkin and were offered a welcome drink, which we enjoyed, whilst filling in the registration form. We were later taken to our room by the general manager on duty, who did a great job showing us around and thoroughly explaining what the lodge offered eg. How to book game drives etc.
Our room was absolutely beautiful, with stunning views from anywhere in the room. It was so private that we felt like the only guests in the lodge. We used the fireplace that is sandwiched between the room and the bathroom, which creates such an ambience. The rooms are very well appointed, with all the bells and whistles, but still feels personal.
The main building mostly comprises of decks raised on stilts, and has a spectacular 180° bushveld view. Although there were a lot of guests it didn't feel full, and there are many cleverly designed seating coves scattered throughout the main building, decks and pool area, that allows guests the option to mingle or retreat, whilst enjoying a cocktail from the bar. The layout and design is spot on; a unique contemporary twist on the African Lodge theme, creating a chique but warm atmosphere, forcing guests to instantly start unwinding on entry.
The food from the restaurant served by happy smily waitrons was beautifully presented and very tasty. I especially enjoyed the Kingklip and Springbok Mains and Salmon and Caper Eggs Benedict.... scrumptious !!
The bar was great, and served all the old favorite cocktails plus some of their own personal ones. The wine list was extensive and well chosen.
The high Tea was also wonderful, very welcome after a long game drive.
Simo our game ranger was so informative and made us feel like we had known him for years. We loved the game drives, and he made a huge effort to help us see almost every animal the park had to offer. My highlight was seeing the elephants up close and personal. He seemed to be the local elephant whisperer, and was seemed well-versed on their behaviour, which made us feel very comfortable being so close to them.
My wife and I went for a couples massage on our second afternoon at the spa. We could have stayed there forever. The masseuses were tremendous. It really felt as if we had all day to be pampered. They really took their time, and it didn't feel rushed like other spas we've been to.
We drove back home in a beautifully cleaned car, eating our muffins from our farewell pack, and wishing we had stayed longer.
Keep up the Amazing work Rhino Ridge Team
StefanS3449
Review posted January 2022

"If you are umming and aahing about going. Stop, and book"
This is the kind of stay that leaves you wanting everyone you know to go and experience! From the moment you arrive to fresh wet face cloths to the minute you leave with padkos in hand, every detail, every interaction, every meal leaves you feeling like you're a favourite family member who has come to stay. Staff greeting you by name with smiles! But for me, the icing on the gluten-free cake was the meal planning around being gluten free. Not once did I look at anyone else's food and feel I was missing something. Every meal was delicious. Malva pudding and carrot cake? What more could a girl ask for? Please extend my thanks again to the chefs! If you are umming and aahing about going. Stop, and book. Have i mentioned the fantastic accommodation, great game drives and the wonderful spa? Loved it!
Bridget H
November 2021

"The perfect honeymoon"
After an exhausting rollercoaster of a year re-planning our wedding twice we eventually made it to our perfect honeymoon. Rhino Ridge and all the staff were absolutely fantastic and we could not stop raving about it to friends and family. The service 10/10. The accommodation (Villa 6) 10/10. The food 10/10. The feeling of relaxation and pure luxury was priceless. Thank you to everyone at the lodge who made it a magical experience.
Ashveers
(South Africa) Stayed May 2021

"the best bush experience we have ever had"
Truly one of the best bush experiences we have ever had (and we have had many). Would not change a thing. Superb staff, incredible lodge and truly a memorable amazing experience in every respect. 10 / 10
Brett Yeatman
Stayed November 2021

"Rhino Ridge exceeded all our expectations"
My wife and I stayed here for our first ever safari, and we can confidently say that Rhino Ridge exceeded all our expectations. The setting overlooking Hluhluwe–iMfolozi Park is stunning. We regularly spotted giraffes, nyala, and even a mother rhino and her baby right from the terrace of our villa. The main areas of the lodge are designed to emphasize the view - we especially enjoyed post-drive breakfasts looking out over the park. The cozy fireplace in the main lodge provided a great area to unwind before dinner and chat with fellow guests. The food is delicious and generously portioned - you will not go hungry here. Our private villa was excellent. Well decorated, comfortable bed, and a luxurious bath and shower. What really made Rhino Ridge stand out, however, was the staff. The team is made up of caring, thoughtful professionals who will take every measure to make you feel welcome. Special shout-out to SK, who exudes natural, warm hospitality and makes you feel great just by chatting with him. Our game drive guide Toulani was top-notch. He was deeply knowledgable about the wildlife, and provided lots of great context during every sighting. He was attentive to our interests, and tailored the drives towards what we were keen on - in our case, birds + the classic big 5, of which we saw 4! There were too many incredible sightings to recount for this review, suffice to say we were in awe of everything Toulani was able to show us. Rhino Ridge gave us an excellent introduction to South African wildlife and safaris, and we hope the be able to return in the future. Final tip: if you self-drive to reach the lodge, consider renting a car with good clearance. The dirt roads leading to the lodge were in pretty decent condition, however we felt more confident in the muddy/rougher sections in an SUV.
Sean Z
Stayed October 2021

"Setting is stunning"
This was a last minute get-away and I wasn't sure what to expect what with COVID, but it was such a lovely experience. I was surprised (and pleased) that there seemed to be a pretty full house - but still great COVID protocols.

Rhino Ridge's setting is stunning - the views of the landscape / terrain are just stunning.
The food was amazing - and they seemed well prepared to cater to every dietary need. There seemed to be a size-able vegetarian contingent of guests during my stay, so I am not sure if the vegetarian options are always as outstanding - but they were great during my time!

My room was fantastic - it was huge and had a lovely deck overlooking the valley and so peaceful. great for sleeping.

Animal viewing was fine (not great) - but I think that had more to do with time of year/weather/etc. We saw plenty of animals - rhinos, elephants, wildebeest, giraffe - but no cats. BUT the food and accommodation more than made up for it - and I'm already booking a return trip.
Anneel
Stayed October 2021

"A special thank you"
A huge thank you to the two of you and the staff at Rhino Ridge Safari Lodge.
Our stay was nothing short of perfect.
Both myself and my now fiance thoroughly enjoyed every minute of our stay, from the food to the game drives to the hospitality of the staff.
The proposal night was perfect. Everything went according to plan. Spha went out of his way to ensure all my demands were met. Throughout our stay, Spha and his team continually checked up on us making us feel at home at all times.
Dr K
Durban, South Africa
Stayed November 2020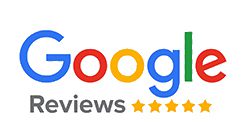 "Gem on planet earth"
I've visited many game lodges in South Africa, without a doubt you stand out. your hospitality is on another level. the game drives with well equipped and knowledgeable ranger (Simo Buthelezi you taught me so much ). This is now my new home for every bush visit. well done on keeping your doors opened and having the lodge fully functional during these trying times. well done to this gem on planet earth ….wow
DSN
October 2021

"I loved their professionalism and warm spirit"
On arrival at Rhino Ridge, we received a very warm welcoming from Bryce, Precious and Zanele. I loved their professionalism and warm spirit. The Lodge is magnificent with the views to die for! We arrived just in time for a delicious high tea and again the staff at the restaurant were amazing, especially Themba. I felt at home to the point that I remember everyone by their names. 
Fikile H
South Africa
Stayed August 2021

"Out of This World"
Early january 2020, we spent two nights at this lodges within the Hluhluwe-Imfolozi NP. The rooms and food were excellent, and the views from the lodge and infinity pool are top! What a view on the rolling hills of Zulu land. Having experienced the game drives in the private reserves of Kruger, the games drives here were somewhat less exiting as the cars cannot leave the roads in search of animals. This being said, the safari walk is a MUST DO. Highly recommended in the morning. We got up at 4:30am and were walking at 5:00am. The experience of the silence and the sun rising behind the hills is unforgettable. Sitting within 50 metres of rhino's is out of this world.
Kristof_and_family
Beringen, Belgium
Stayed January 2020

"SA-Venues verified review"
Upon arrival, the atmosphere was relaxing and the scenery was breathtaking! The staff is friendly and will do anything to make the experience personal and amazing for you. Sifiso is an excellent game ranger and we had a few good laughs with him. Spha is an amazing host and makes sure you are comfortable. The food is Masterchef style and yummy! It is an experience that will never be forgotten!
Jacobus
Stayed November 2020