Private Deck

Shower
Air Conditioning

Overhead Fans
Tea + Coffee

Safe

Hair dryer

Mini Bar

Laundry Service

Double Vanity
Our four Safari Rooms are configured in pairs comprising a common entrance lobby leading off to two separate bedrooms. Each bedroom has a private shower room that opens out onto a small viewing deck.  The bedroom has a glass sliding door that opens onto a deck which is screened from guests in the neighbouring room ensuring your complete privacy.
Our Safari Rooms have a private deck, double vanity, separate toilet, air conditioning, overhead fans, mini bar, safe, hairdryer, and tea and coffee making facilities.
ROOM RATES
RATES PER PERSON PER NIGHT SHARING For the Safari Room
Aug 2020 - Apr 2021:
R 3 650 / Night
May 2021 - Jul 2021:
R 2 980 / Night
Aug 2021 - Apr 2022:
R 3 900 / Night
May 2022 - Jul 2022:
R 3 100 / Night
SINGLE SUPPLEMENT: PLUS 30%
CHILDREN SHARING WITH ADULTS 0-3 YEARS: NO CHARGE
CHILDREN SHARING WITH ADULTS 4-12 YEARS: 50% OF ADULT RATE
CHILDREN SHARING WITH ADULTS 13-18 YEARS: 75% OF ADULT RATE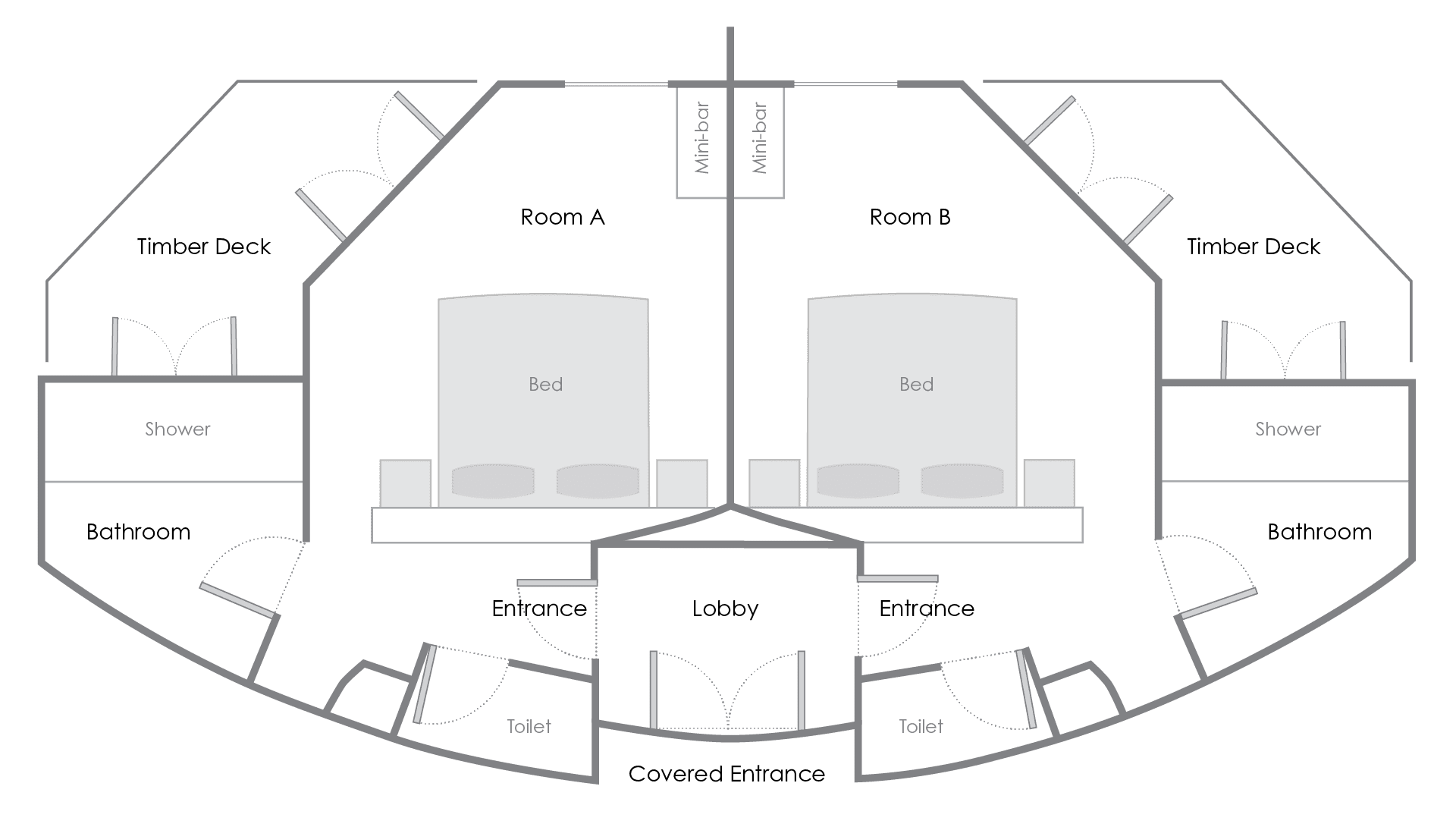 "The perfect honeymoon"
After an exhausting rollercoaster of a year re-planning our wedding twice we eventually made it to our perfect honeymoon. Rhino Ridge and all the staff were absolutely fantastic and we could not stop raving about it to friends and family. The service 10/10. The accommodation (Villa 6) 10/10. The food 10/10. The feeling of relaxation and pure luxury was priceless. Thank you to everyone at the lodge who made it a magical experience.
Ashveers
(South Africa) Stayed May 2021
"A special thank you"
A huge thank you to the two of you and the staff at Rhino Ridge Safari Lodge.
Our stay was nothing short of perfect.
Both myself and my now fiance thoroughly enjoyed every minute of our stay, from the food to the game drives to the hospitality of the staff.
The proposal night was perfect. Everything went according to plan. Spha went out of his way to ensure all my demands were met. Throughout our stay, Spha and his team continually checked up on us making us feel at home at all times.
Dr K
Durban, South Africa
Stayed November 2020
On arrival at Rhino Ridge, we received a very warm welcoming from Bryce, Precious and Zanele. I loved their professionalism and warm spirit. The Lodge is magnificent with the views to die for! We arrived just in time for a delicious high tea and again the staff at the restaurant were amazing, especially Themba. I felt at home to the point that I remember everyone by their names. 
Fikile H
South Africa
Stayed August 2021
"Out of This World"
Early january 2020, we spent two nights at this lodges within the Hluhluwe-Imfolozi NP. The rooms and food were excellent, and the views from the lodge and infinity pool are top! What a view on the rolling hills of Zulu land. Having experienced the game drives in the private reserves of Kruger, the games drives here were somewhat less exiting as the cars cannot leave the roads in search of animals. This being said, the safari walk is a MUST DO. Highly recommended in the morning. We got up at 4:30am and were walking at 5:00am. The experience of the silence and the sun rising behind the hills is unforgettable. Sitting within 50 metres of rhino's is out of this world.
Kristof_and_family
Beringen, Belgium
Stayed January 2020
"SA-Venues verified review"
Upon arrival, the atmosphere was relaxing and the scenery was breathtaking! The staff is friendly and will do anything to make the experience personal and amazing for you. Sifiso is an excellent game ranger and we had a few good laughs with him. Spha is an amazing host and makes sure you are comfortable. The food is Masterchef style and yummy! It is an experience that will never be forgotten!
Jacobus
Stayed November 2020
"Spectacular Views"
We stayed in October for two nights but really could have done with an extra night in order to make best use of all the facilities. The lodge is in a fantastic location over looking the park and is easy to find but the last part of the drive is very steep. We were warmly greeted by Mary on our arrival and after a full briefing taken to our lodge, number 10. This was roomy and spacious with a large comfy bed, sofa, fireplace, bath, shower and large veranda. The room was equipped with everything you could need. The only negative was the shower had a glass door to the veranda so it felt like you had an outside bathroom. Lovely if you were in any other room, but it was disconcerting to find the staff taking a short cut back in front of our lodge whilst you were in the shower! Was particularly impressed with the provision of refillable metal drinks bottles for water instead of single use plastic ones.
Take your binoculars to breakfast as all the tables are positioned facing over the valley with spectacular views. We saw buffalos, giraffes and wart hogs. The food was excellent and the staff very attentive and friendly. High tea was taken just before the afternoon drive where you sit with your ranger and others from your safari vehicle, a great way to get to know people. Dinner is inside the main building with the quality and quantity of food excellent. We were also lucky enough to be entertained by a group of local women and children singing and dancing. Amazing!
We also booked the three hour bush walk at 10.30 which meant we still had all our game drives. Our ranger was fantastic and knowledgeable. He kept the walking pace suitable with frequent stops for water and to catch our breath whilst learning about the plants and animals in the bush. Saw lots of zebra, wildebeest, rhinos and spiders up close. Well worth the extra money. This did mean that we only had about an hour free before dinner. Another day meant we could have used the pool or spa.
The game drives were good and we were lucky enough to see quite a lot of wildlife. However, because the lodge is in the national park they are not allowed off road. The guides do keep in contact with one another should there be an unusual sighting.
This is a beautiful lodge in an amazing location with equally amazing staff.
MATTNottinghamUK
Nottingham, UK
Stayed October 2019
"Awesome beauty of pristine savannah"
The lodge and the National Park is an absolute gem. Even though South Africa has a very high standard in Safari and lodge a accommodation this amazingly beautiful gem stands out. The view from the lodge, pool, rooms and is breathtaking. But location is surpassed by the gorgeous and delightful staff who let you experience the world famous South African hospitality. This lodge set some new standard for me. I am recommend to arrange this visit at the end of your trip so you want be disappointed by other Safari Lodges.
Yaenkie
Somme, France
Stayed February 2019
"The Perfect Stay"
We stayed at Rhino Ridge for 3 days and 3 nights and I wish we could have stayed longer. Everything about our stay was perfect. First, the staff from the waiters to the safari guides was truly exceptional. Everyone was so friendly and kind, we were sad to leave them. We had a dedicated safari guide, who we went out with twice a day for 3 hours (6-9 am and 4-7pm). One each safari ride we would stop for a snack and drink (in the morning coffee/tea) and in the afternoon a drink of choice (from wine to gin and tonic). We saw tons of animals on each drive. The only animal hard to track down was the lion and the leopard.
Malgorzata S
New York City, New York
Stayed March 2019