Smug little ranger princess
Posted on: March 20, 2019
Sunsets are beautiful the world over, but none so rich, slow and deep as in Southern Africa. I might even claim that they have magical healing powers. As the layers or vermilion, cerise and blood-orange enthrall, your soul is drawn into their other-worldly realness. In that time it takes the sun to sink, so do your existential questions, such that you are left with a single ray of longing – to be present, here and now, stretching down a portal to forever. You would travel far for such a sunset.
I choose to travel to a very special place in Northern KwaZulu-Natal in order to experience these sunsets – Rhino Ridge Safari Lodge. Here there are a range of vantage points from which to engage in the glowing dusk – you could choose the infinity edge pool which overlooks a vast valley, or you might prefer to be on foot during a walking safari. One of my favourite options is on the back of an open game viewing vehicle on a guided evening drive.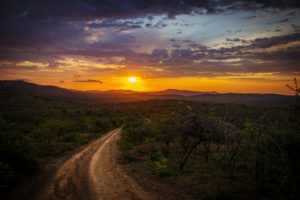 I arrive well in time for the game drive, duffel bag in hand. The guests and guide look amused at my bag, but I have learnt from past experience that conditions on an open vehicle can change dramatically within the space of a 3 hour drive. Aside from my camera equipment and binoculars I start with sunglasses, sun hat, sunblock, lip ice, a light cotton shirt and open shoes. By the end of the trip I have added a scarf, beanie, jacket, socks and closed shoes. I try to arrange my face into a humble look of benevolence rather than smug superiority as others start shivering. The guides give a nod of respect to the ranger-princess.
Fortunately, said guides at Isibindi Africa Lodges are also experienced in this routine and bring out blankets, ponchos, delicious snacks and warm or alcoholic drinks to keep us heated. I sip a medium cream sherry and encourage other guests to try the local Amarula, rumoured favourite sundowner of the elephant.
The guides choose a perfect spot from which to appreciate today's ochre orb setting alongside an acacia tree. There is a musical tuck-tucking of guinea-fowl. We chuckle when the peaceful sounds are disturbed, as nothing admonishes quite as ferociously as a francolin, bossy poultry of the bush.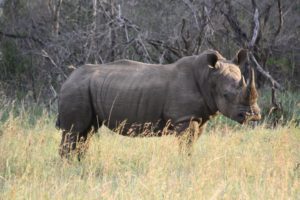 It is a happy outing and even the guides start to relax their self-imposed pressure to spot the big animal sightings, seeing how much we are enjoying every aspect. I have learnt to trust the African bushveld, which somehow never fails to deliver on a unique wildlife experience. Today it is a lone rhino bull, then a herd of buffalo wallowing in a muddy river bed, followed by a tall horse (giraffe) with a baby, perfectly catching the last rays, back-lit. The smell of herbivores dominate, until suddenly in a dip the aura is unmistakably feral. Our senses heighten and backs straighten and we are rewarded by a leopard crossing the gully.
No matter how many times I am privileged to participate in such an outing, the experience just keeps getting better. Do release your creative energy and write to tell us about your adventures from one of the Isibindi Africa Lodges. While we wait for our next turn, we can live vicariously through your description which may impart its own magical healing powers to us, or simply spur us on to book our next African sunset drive.