Ten reasons to visit Hluhluwe–iMfolozi Park
Posted on: August 22, 2018
By Philip Briggs from Safaribookings.com
Hluhluwe–iMfolozi Park rivals the world-famous Kruger National Park as one of southern Africa's most alluring safari destinations. Extending over 1000 square kilometres of beautiful green hills, it is the world's most important rhino sanctuary, and hosts a rich biodiversity including all the Big Five. Climatically, the warm, moist climate of Hluhluwe–iMfolozi Park makes it a more attractive prospect than Kruger in the southern winter (May to September). It is also within striking distance of some wonderful unspoilt beaches.
Sound interesting? Well here are 10 more good reasons why you should visit Hluhluwe–iMfolozi Park on your next trip to South Africa.
It is one of Africa's most historic reserves
Back in the days of Zulu sovereignty, Hluhluwe–iMfolozi Park was preserved as the royal hunting ground for King Shaka and his successors. It was accorded official protection in 1895 as the separate Hluhluwe Valley and Umfolozi Junction Game Sanctuaries, making it Africa's oldest game reserve. During the early decades, it suffered several ecological blows, including a rinderpest epidemic in 1898 and a debilitating drought in 1919. More bizarrely, between 1929 and 1952 it was subjected to a series of game eradication programs undertaken in the misguided belief that wild animals were a reservoir for the tsetse-borne parasite that transmits sleeping sickness to cattle. Hluhluwe and iMfolozi were merged into one management unit in 1989, when a corridor reserve was created to connect them.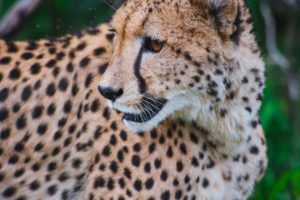 It hosts Africa's densest rhino populations
Hluhluwe–iMfolozi Park has a unique place in the history of rhino conservation. Incredibly, every last living southern white rhino is descended from a small bottleneck population protected in the iMfolozi sector in the early 20th century. White rhinos from iMfolozi were later translocated to create breeding populations in dozens of other reserves, from the Kruger Park to Kenya. Today, Hluhluwe–iMfolozi Park hosts the world's densest white rhino population – more than one adult per square kilometre – along with 300-plus critically endangered black rhinos. The grass-eating white rhino is likely to be spotted on any given game drive. The more elusive black rhino tends to stick to denser scrub, but the odds of seeing one are about the best of any reserve cohabited by both species.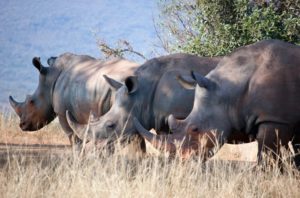 All the Big Five are present
Although rhinos understandably hog the limelight, Hluhluwe–iMfolozi Park is home to all of the Big Five. Elephants and buffaloes are both numerous and readily observed. The lion population is comparable in density to the Kruger National Park. Leopards, though fairly numerous, are predictably secretive and seldom seen.
It's one of the best places to see the African wild dog
The African wild dog is listed as one of the continent's most endangered large carnivores, with a global population estimated at 4000 to 6000. Also known as the painted dog due to its distinctive cream, brown and black coat, it lives in packs of five to 50 individuals that hunt collectively. Hluhluwe–iMfolozi Park is one of the few African parks where this sociable species is regularly observed.
The birdlife is amazing
Hluhluwe–iMfolozi Park is one of South Africa's finest birdwatching sites. Its checklist of more than 340 species reflects a habitat diversity that ranges from open grassland and acacia savannah to misty scarp forest and a variety of wetlands. Among the more desirable species associated with the park are crested guineafowl, Narina trogon, purple-created turaco, gorgeous bush-shrike, Rudd's apalis and the near-endemic southern bald ibis. Well-vegetated waterways are home to African black duck and African finfoot. The park also provides refuge to large raptors such as vulture and eagles, which tend to be persecuted in unprotected areas.
It's home to several unusual antelope
Hluhluwe–iMfolozi Park protects a diverse range of antelope. A local speciality is the nyala, a stately relative of the more widespread greater kudu and bushbuck, and intermediate in size between the two. The male nyala is a truly spectacular creature with a dark chestnut-grey coat broken up by white stripes, a blackish leonine mane, and lyre-shaped spiral horns that grow to a length of 80cm. Hluhluwe–iMfolozi Park is also one of the few reserves to host the country's three smallest antelopes. The red duiker is associated with lowland forest, while the blue duiker is a denizen of escarpment forest, and the suni inhabits scrubby thickets.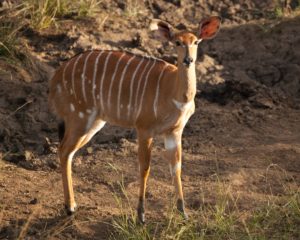 You can stretch your legs
Guided game walks in Hluhluwe–iMfolozi Park generally focus on smaller wildlife, birds and invertebrates. That said, the fact you might encounter the likes of rhino, buffalo or elephant gives a definite edge to the experience
Or take an evening drive
Sundowner drinks below an orange sky form the prelude to an evening drive, which offers a whole new perspective on the African bush. Below a glittering night sky, accompanied by an enchanting litany of frog and insect noises, evening drives offer your best chance of spotting an elusive leopard going about its nocturnal business. Also most active after sunset are the delightful thick-tailed bushbaby, predators such as spotted hyena, genet and caracal, and birds including owls, nightjars and thick-knees.
You can experience traditional Zulu culture
Hluhluwe–iMfolozi Park lies in the heart of KwaZulu-Natal, a province that – as its name suggests – is numerically dominated by the Zulu people. Several cultural sites near the park offer an opportunity to explore traditional Zulu culture. Activities might include a visit to an inyanga (traditional herbalist) or sangoma (spiritual diviner and healer), or an exuberant group performance of traditional drumming, singing and dancing.
The iSimangaliso Wetlands are just a day-trip away
Hluhluwe–iMfolozi Park is well positioned to explore iSimangaliso Wetland Park, a UNESCO World Heritage site whose 220km of Indian Ocean frontage includes Africa's largest estuarine system. A short drive leads to the estuary mouth at the village of St Lucia, which is enclosed by jungle and borders a luscious sandy beach. Plenty of hippos and crocodiles are likely to be seen on launch trips on the estuary, as are aquatic birds such as African fish eagle and mangrove kingfisher. St Lucia is also a base for seasonal whale- and dolphin watching trips, while the out-of-town crocodile farm is a popular spot for lunch.
In order to book your stay at Hluhluwe-iMfolozi, visit www.safaribookings.com, the largest marketplace for African safari experiences. Ask about including Rhino Ridge Safari Lodge in your trip – it is the only luxury safari lodge set right within Hulhuwe-iMfolozi Game Reserve and offers walking safaris and a homestay or visit to a traditional Zulu homestead.